Help Educate Students in Your Area with Our Financial Literacy Games and Curriculum
Do you represent a bank, credit union, or other financial services company that wants to make a difference in the financial literacy of students in your community?
Do you want to help your local young citizens learn to budget, manage their credit, understand the value of savings, practice investing in the stock market, and much more?
Make an instant impact on your community by providing access to PersonalFinanceLab.com!
Why Sponsor?
We teach people of all ages about the importance of budgeting, savings, and investing. We teach people that the decisions they make each day have an impact on the way they live in the future. We do this through interactive experiential learning and gamification.
Games are fun. People like to play games and compete. The competition makes them try harder.
Each year we reach over 800,000 students, but we want to reach more.
The testimonials to the right prove our games work.
While we already provide over $250,000 of free access per year, we need your help in reaching more students. Your sponsorship will give your local schools complete access to our entire platform, making an instant impact on the kids and young adults who need it the most.
Testimonials
Make an Impact On Your Local Community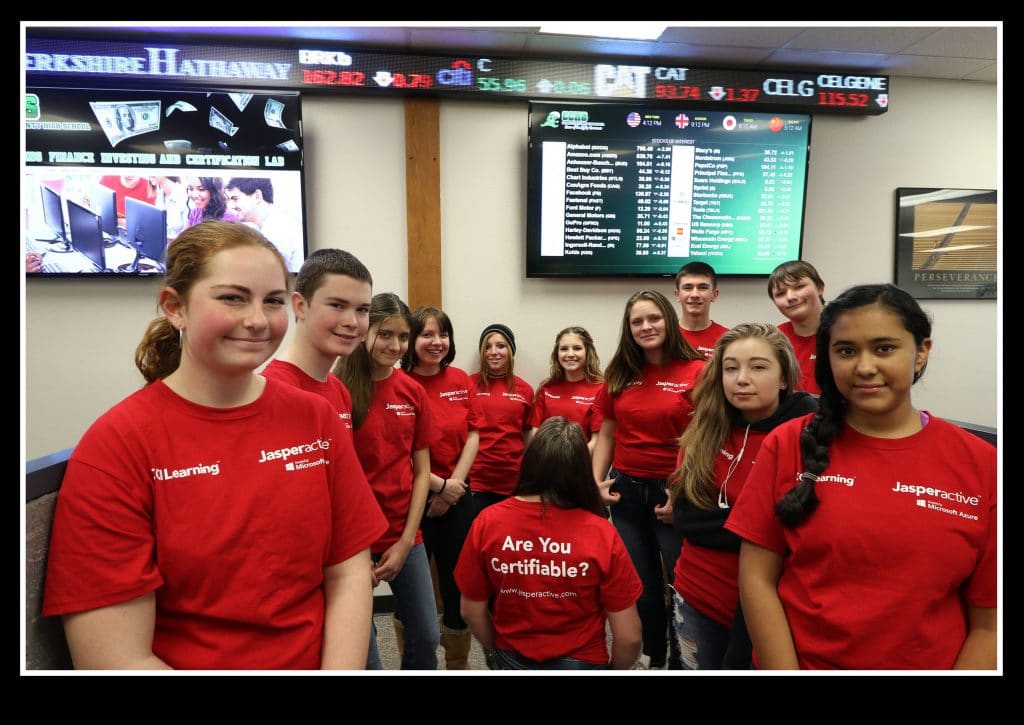 Support your local students, parents, teachers, and schools.
And build your local brand awareness at the same time.
We can help you make a difference in the lives of the young people in your community.
Who We Are
PersonalFinanceLab.com is part of the Stock-Trak family – one of the first completely online resources for teaching and learning about financial literacy.
Founded in 1990, Stock-Trak is the leading innovator in financial literacy and education games. Last year alone, we helped over 800,000 students learn about budgeting and investing.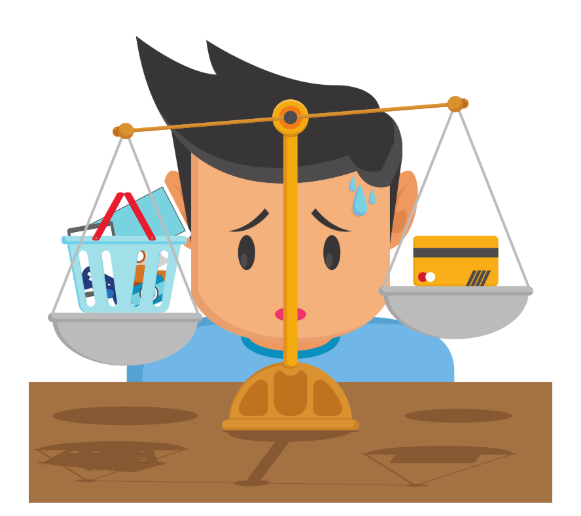 Unlike other resources out there, our platform constantly evolves to meet the needs of the teachers and students we serve. We release new features and enhancements directly to classrooms nearly every week based on the live feedback we receive from teachers, professors, and educators from around the world. This puts the PersonalFinanceLab.com platform in a league of its own for financial literacy education, and it is only getting better!
Sponsor A Class
Your generous sponsorship will give a class, school, or district complete access to the PersonalFinanceLab.com Budget Game, Stock Game, and entire curriculum library.
We will even do a live teacher training webinar to make sure the teachers are fully familiar with our platform.
And to recognize your generous support, your organization's logo will appear in a special "Thank You" box that appears on every page of the stock game and budget game. Every teacher, parent and student accessing the site will clearly see your branding and logo.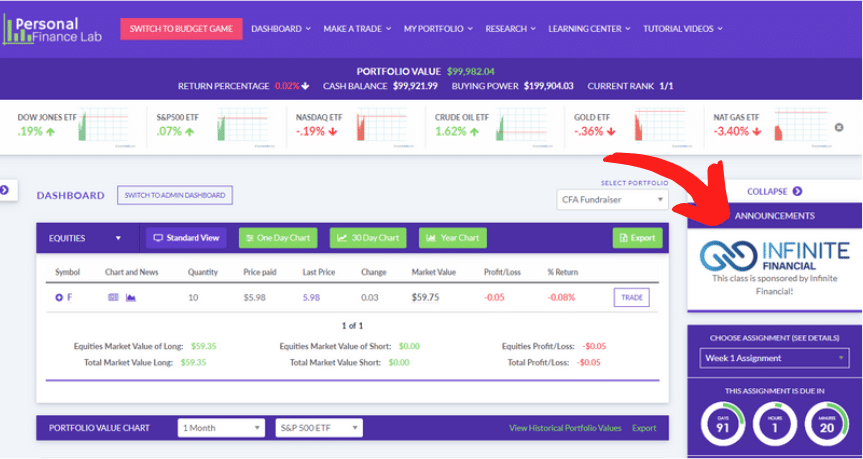 Pricing
Class
Up to 60 students per year
School
Up to 250 students per year
District
Up to 1000 students per year
$895.00
$2995.00
$5995.00
Sponsor A Lesson
Improve your organization's impact on your schools and community with sponsored lessons. Sponsored lessons can highlight the services your organization provides or emphasize a specific area of Personal Finance or Investing for your sponsored school. Lessons can be either provided by your organization, or you can choose to add your branding to one of the lessons in our existing curriculum library.
Sponsored lessons can appear as a "pop-up" lesson in the budget game, or optional lessons for the stock game. Upon completion of the lesson, you can optionally "reward" students by adding cash to their virtual account and award the student a custom badge that they can show off on their rankings pages and Personal Finance Lab Completion Certificates.
Pricing
| 1 Sponsored Lesson + Badge | 5 Sponsored Lessons + Badges |
| --- | --- |
| $400 per year | $1500 per year |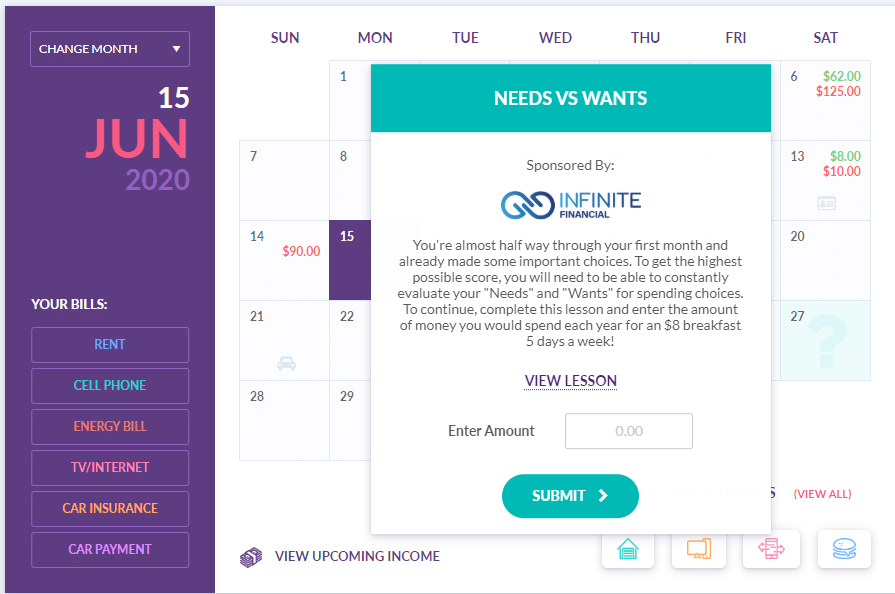 Corporate White-Label Versions Available
Personal Finance Lab's budget game and stock game can also be white-labeled for your organization, giving you a fully branded, turnkey financial literacy platform to offer your local schools and your community-at-large.
Banks, brokerages, and even non-financial companies use our platform for employee training and general employee employee education programs.
The platform's ability to include your own lessons, quizzes, and other assessments make it an affordable and easy to implement solution.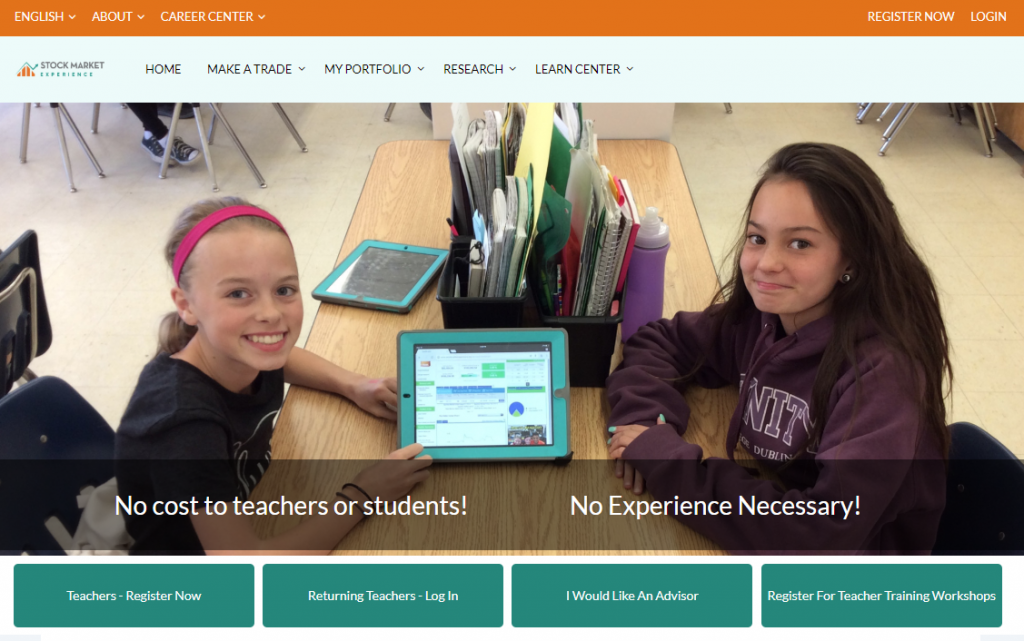 A white-labeled platform includes:
Your organization's customized logos, colors, and branding throughout the budget/stock games (not including the curriculum library)
Help desk support for all users from Personal Finance Lab's support team
Dedicated account manager to help successfully launch, promote, and manage your competitions, challenges, and prizes
Dedicated landing page for your organization
Customized teacher registration page
Up to 1000 users per year
Pricing
| White Labeled Budget Game OR Stock Game | White Labeled Budget Game + Stock Game | White Labeled Budget Game + Stock Game + 30 Sponsored Lessons and Badges |
| --- | --- | --- |
| $12,000 per year | $15,000 per year | $20,000 per year |
Contact Our Team