Jump$tart Coalition Personal Finance Standards Alignment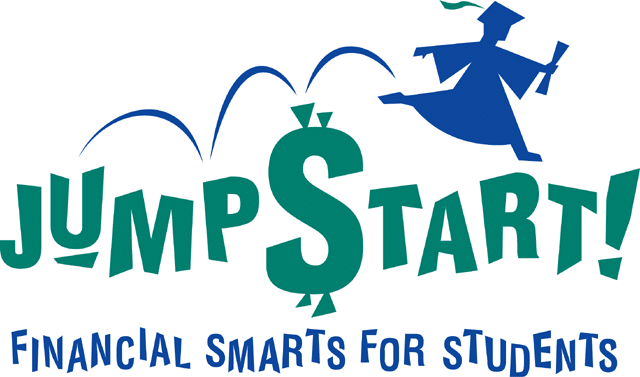 The Jump$tart Coalition for Personal Finance Literacy publishes National Standards focusing on Spending and Saving, Credit and Debt, Employment and Income, Investing, Risk Management and Insurance, and Financial Decision Making. These standards are used as the basis of Personal Finance standards around the country, with most states heavily overlapping or outright adopting the Jump$tart recommendations.
Our Personal Finance curriculum covers each of the Jump$tart recommendations in detail, with additional supplementary materials (not listed) covering more personal finance and economic concepts that can be tailored for your class.
Activity Type Key
Articles:
Videos:
Interactive Calculators:
Comprehensive Tools:
Includes built-in assessment:
Saving and Spending
| Standard | Activity | Type of Activity |
| --- | --- | --- |
| Develop a plan for spending and saving | All About Budgeting | |
| | Spending and Savings Plans | |
| | What is Wealth? | |
| | Building Wealth | |
| | Saving to be a Millionaire Calculator | |
| | Home Budget Calculator | |
| | Family Planning | |
| Keeping Financial Records | What are Financial Records? | |
| | Reconciling accounts | |
| | Receipts – Keeping and Tossing | |
| | Common Tax Deductions | |
| Describe how to use different payment methods | Banks, Credit Unions, and Savings and Loans | |
| | What is Money? | |
| | Debit Cards | |
| Apply consumer skills with spending and saving choices | What is Wealth? | |
| | Spending and Savings Plans | |
| | Saving to be a Millionaire Calculator | |
| | Buy vs Lease Calculator | |
| | Planning Long Term Purchases | |
| | Preparing for Retirement | |
Credit and Debt
| Standard | Activity | Type of Activity |
| --- | --- | --- |
| Costs and benefits of different types of credit | Using Credit | |
| | Credit Cards | |
| | Short-Term Financing | |
| | Good Debt, Bad Debt | |
| | Managing Debt | |
| | Credit Card Payment Calculator | |
| | Compound Interest Calculator | |
| | Car Loan Calculator | |
| Borrower's rights and responsibilities related to credit reports | Credit Reports | |
| Debt Management Problems | Managing Debt | |
| | Good Debt, Bad Debt | |
| | Using Credit | |
| | Managing Bills | |
| | Debt Negotiation | |
| | Consolidating Debt | |
| | Debt Management Services | |
| | Bankruptcy | |
| Consumer Credit Laws | Consumer rights and responsibilities | |
| | Managing Bills | |
Employment and Income
| Standard | Activity | Type of Activity |
| --- | --- | --- |
| Explore job and career options | Career Center | |
| | Biggest Mistakes of Job Seekers | |
| | Acing Job Interviews | |
| | Using Keywords In Your Resume | |
| | Certifications in the Finance Industry | |
| | Careers in the accounting profession | |
| | Starting a Business | |
| Compare sources of personal income and compensation | Income and Compensation | |
| | Payroll Best Practices | |
| Analyze factors that affect net income | Tax Filing and the 1040 EZ | |
| | Common Tax Deductions | |
| | Common Tax Additions | |
| | When to hire a tax professional | |
| | Tax Audits | |
Investing
| Standard | Activity | Type of Activity |
| --- | --- | --- |
| Explain how investing can build wealth and meet financial goals | Investment Return Calculator | |
| | Investing Strategies | |
| Evaluate investment alternatives | Preparing for Retirement | |
| | Saving to be a Millionaire Calculator | |
| | What is a Stock? | |
| | What is a Ticker Symbol? | |
| | Why invest in Stocks? | |
| | What is an ETF? | |
| | What is a Mutual Fund? | |
| | What are Bonds? | |
| | Building a diversified portfolio | |
| Demonstrate how to buy and sell investments | Stock Game | |
| | What is a Stock? | |
| | What is a Ticker Symbol? | |
| | Why invest in Stocks? | |
| | What is an ETF? | |
| | What is a Mutual Fund? | |
| | What are Bonds? | |
| | Building a diversified portfolio | |
| | Getting (and understanding) stock quotes | |
| | Preparing for Retirement | |
| | Investment Research Tool | |
| | How to find stocks in specific sectors | |
| | What is an Income Statement? | |
| | What is a Balance Sheet? | |
| | Cash Flow Statement | |
| Investigate how agencies protect investors and regulate markets | Investing Strategies | |
| | What is a Brokerage? | |
Risk Management and Insurance
| Standard | Activity | Type of Activity |
| --- | --- | --- |
| Identify common types of risk and basic risk management methods | Types of Insurance | |
| Justify reasons to use property and liability insurance | Types of Insurance | |
| | Car Insurance | |
| | Renter's Insurance | |
| | Home Owner's Insurance | |
| Justify reasons to use health, disability, long-term care, and life insurance | Types of Insurance | |
| | Life Insurance | |
| | Health Insurance | |
Financial Decision Making
| Standard | Activity | Type of Activity |
| --- | --- | --- |
| Recognize responsibilities associated with personal financial decisions | Preparing for spending shocks | |
| | Buying a car | |
| | Family Planning | |
| Use reliable resources when making financial decisions | Protecting Against Fraud | |
| | Researching Spending | |
| | What are Financial Records? | |
| | When to hire a tax professional | |
| Summarize major consumer protection laws | Consumer rights and responsibilities | |
| | Protecting Against Fraud | |
| Make criterion-based financial decisions by systematically considering alternatives | Planning Long Term Purchases | |
| | Researching Spending | |
| | Sales Tax | |
| | Unemployment and other programs | |
| | Preparing for spending shocks | |
| | Car Loan Calculator | |
| | Buy vs Lease Calculator | |
| Analyze the requirements of contractual obligations | What makes a contract valid? | |
| Control personal information | What are Financial Records? | |
| | Protecting Against Fraud | |
| Use a personal financial plan | What is Wealth? | |
| | What is a Balance Sheet? | |
| | Net Worth Calculator | |
| | What is an Income Statement? | |
| | Cash Flow Statement | |
| | Budgeting and Spending Strategies | |