Personal Budgeting Game
Interactive teaching resource featuring:
– Students manage a monthly budget, with fixed expenses, variable income, and unexpected life events
– Teachers create customizable contest for their class
– Includes standards-aligned lessons with built-in assessments
– Flexible time commitments to fit your class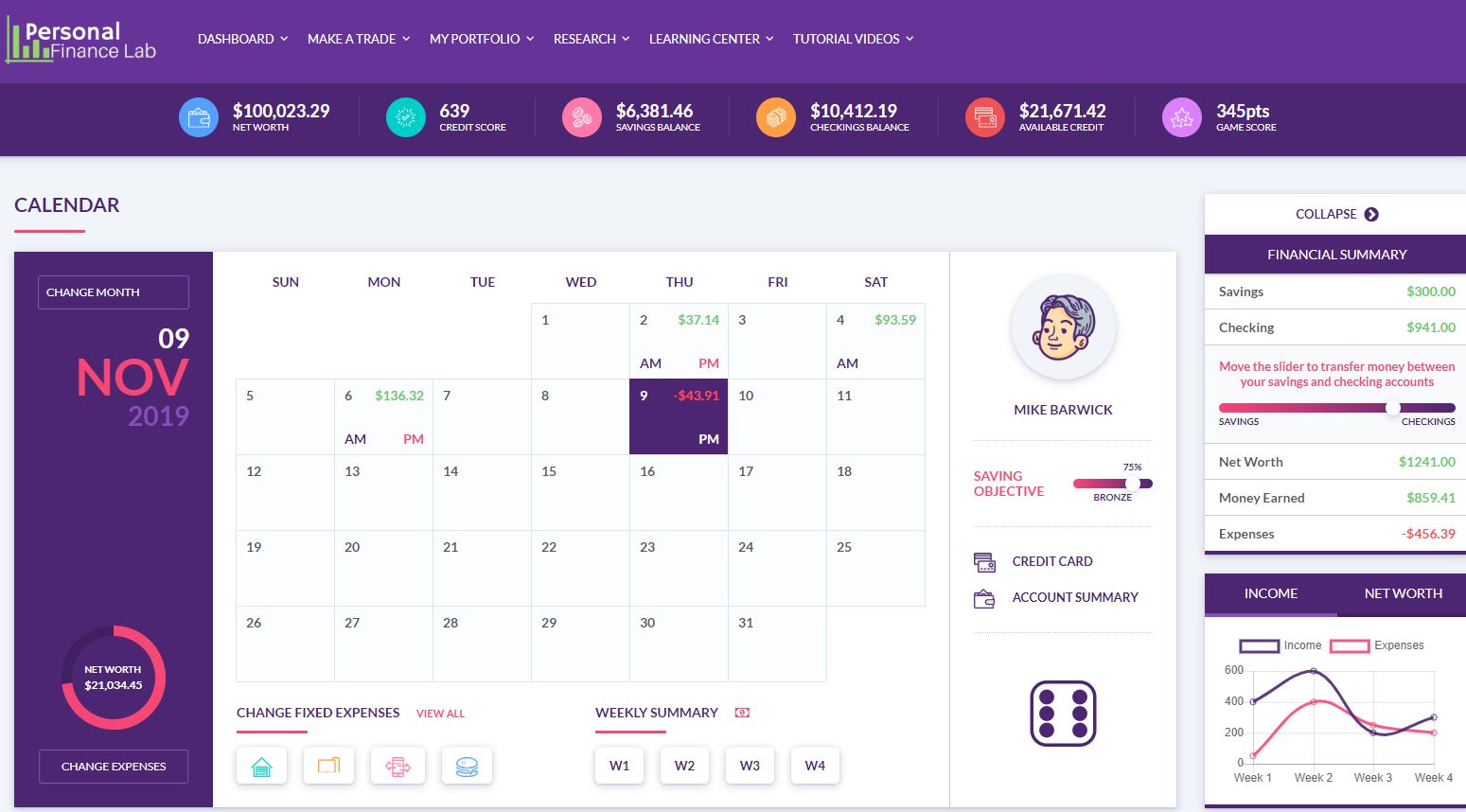 Students progress through the game by rolling a dice, moving forward a few days at a time. Teachers choose the length of their game - from 6 months to 60!
Each "Month" in game takes between 10 and 20 minutes to complete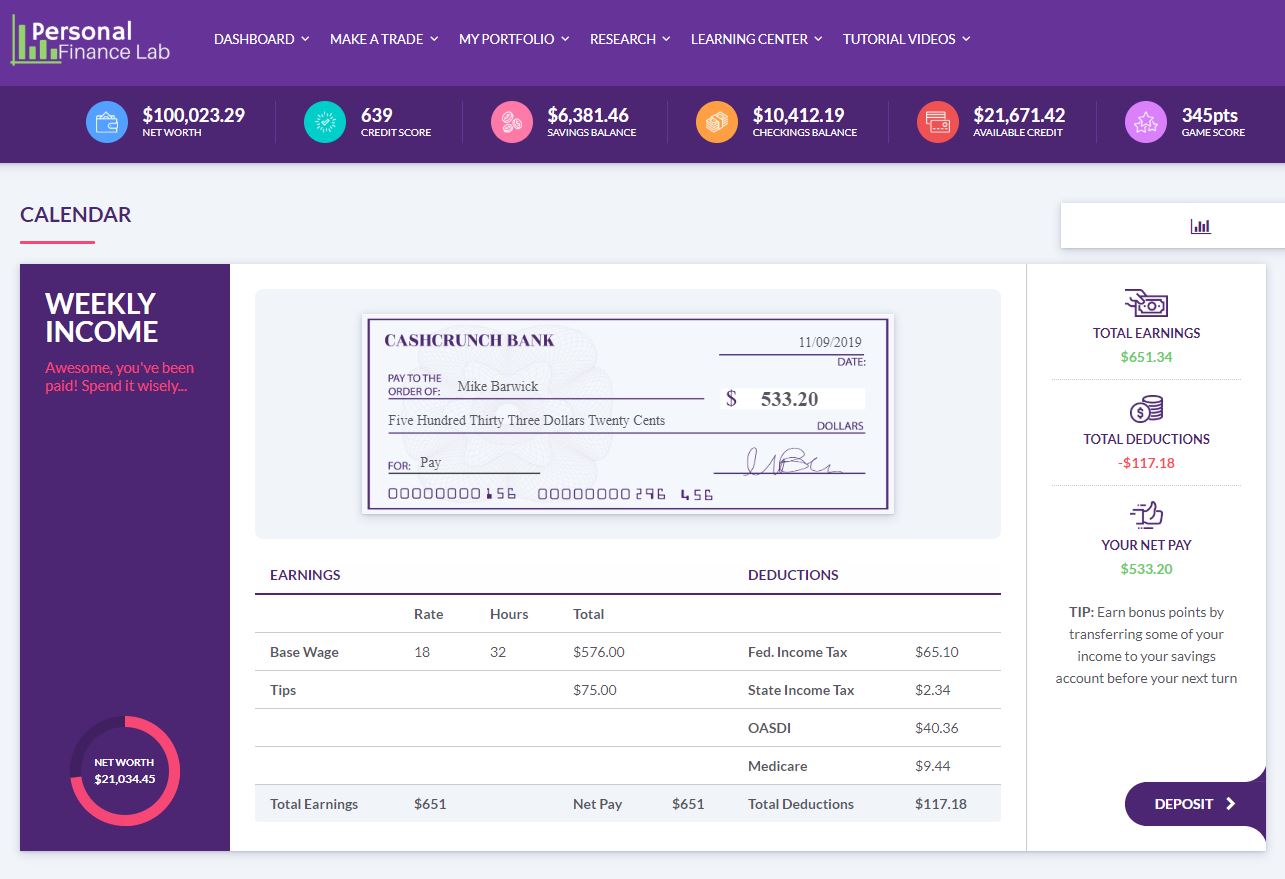 Students work a part-time job and receive a paycheck each week. They need to use their variable income to meet their expenses - both expected and unexpected
Bonus points are awarded when students transfer 10% of each paycheck to their savings account before their next turn!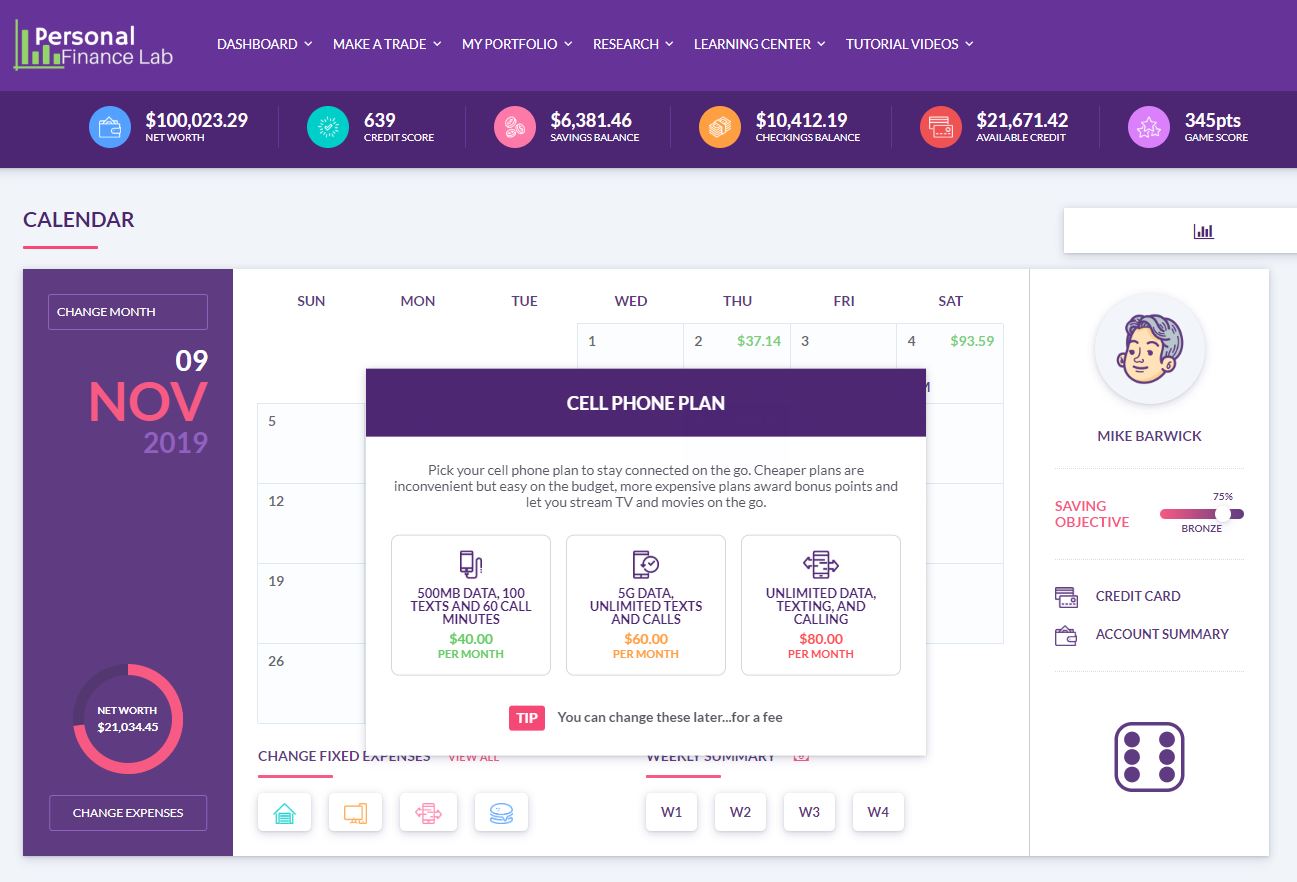 Teachers set the average amount students pay each month for their bills, but students get a choice around that average for how they choose to spend their income
Cheaper options for their fixed expenses are more budget-friendly, but students earn bonus points by selecting the more expensive options. Can they balance their budget while earning the most points?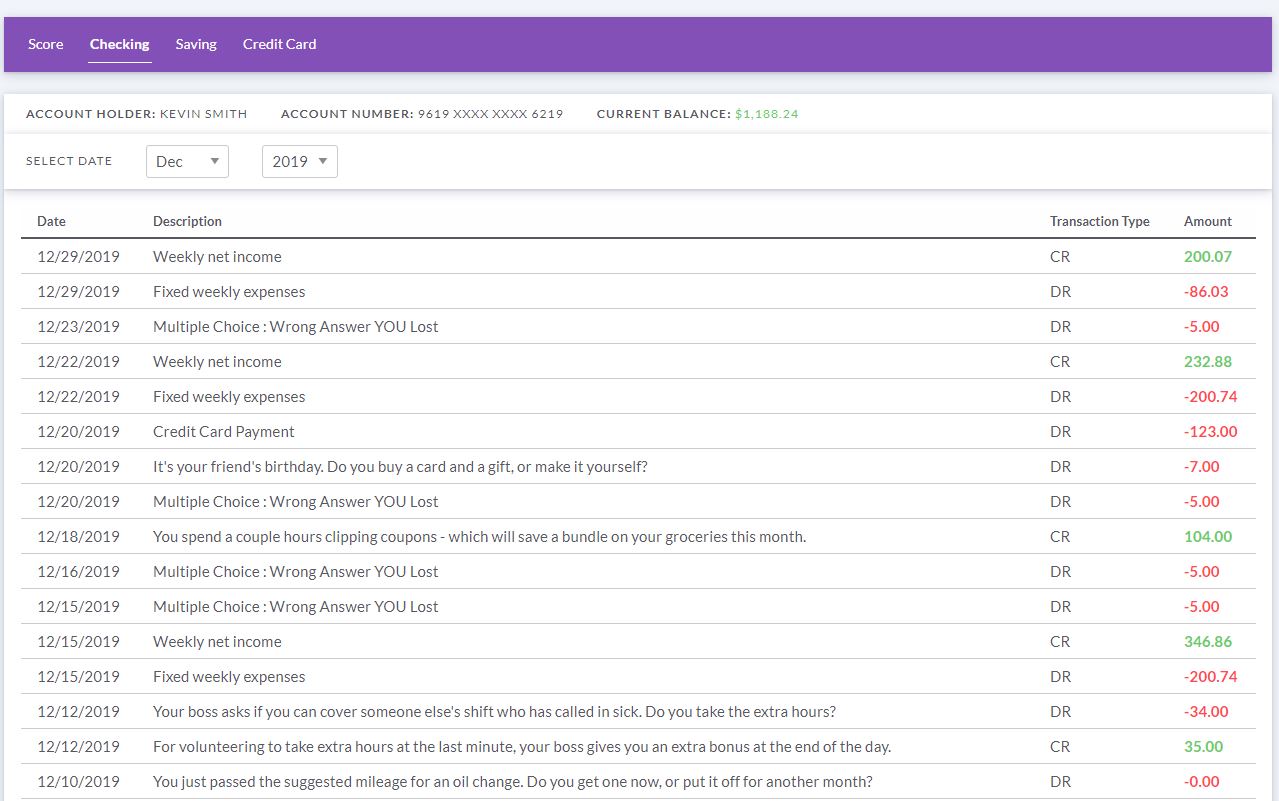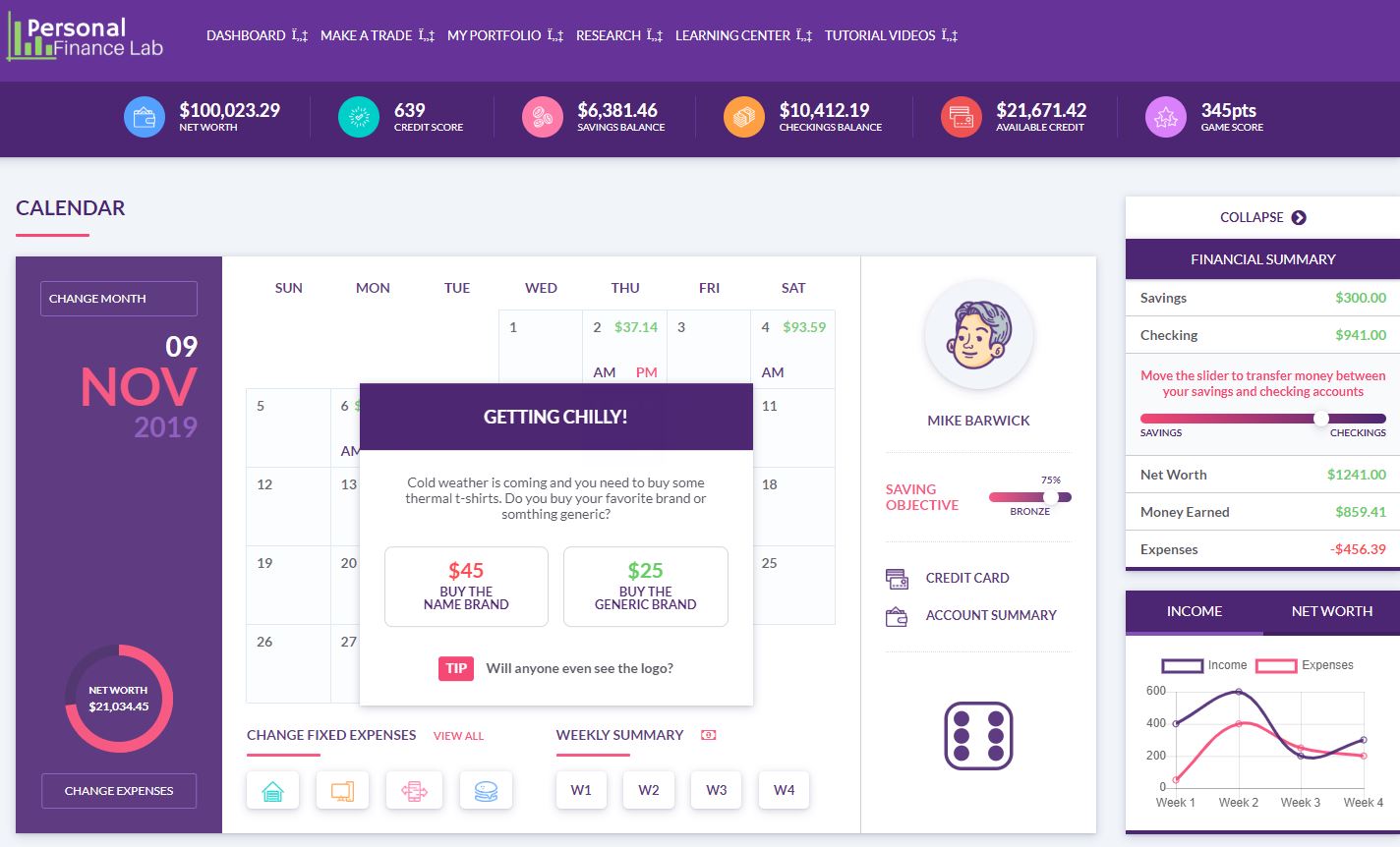 Every roll of the dice, students are faced with unexpected events - usually something bad!
Students choose to use their credit card or debit card for each expense. Consequences of each choice can cascade through other events later in the game!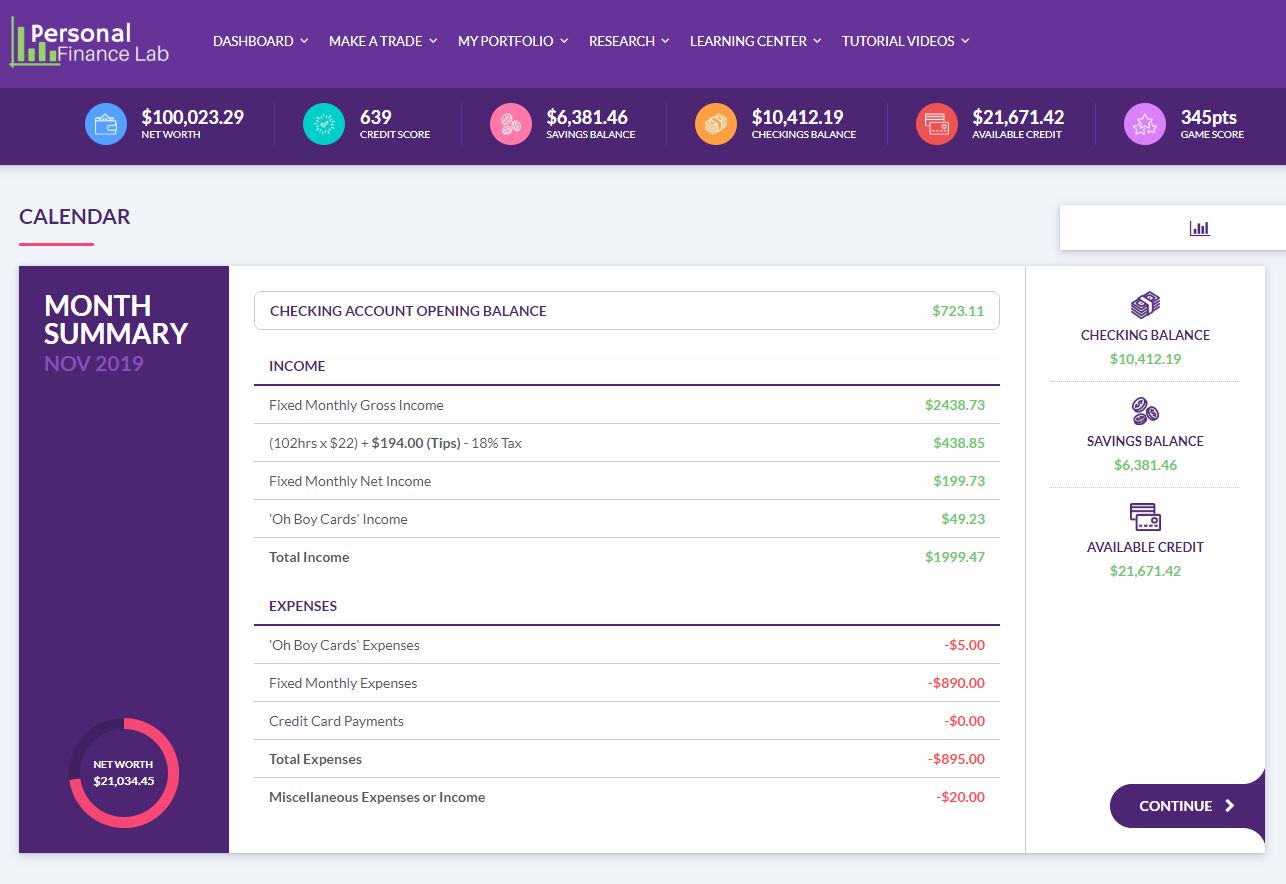 Students get weekly and monthly summaries of their progress
Seeing how their total spending breaks down between their "Planned" and "Unplanned" expenses helps build realistic budgeting habits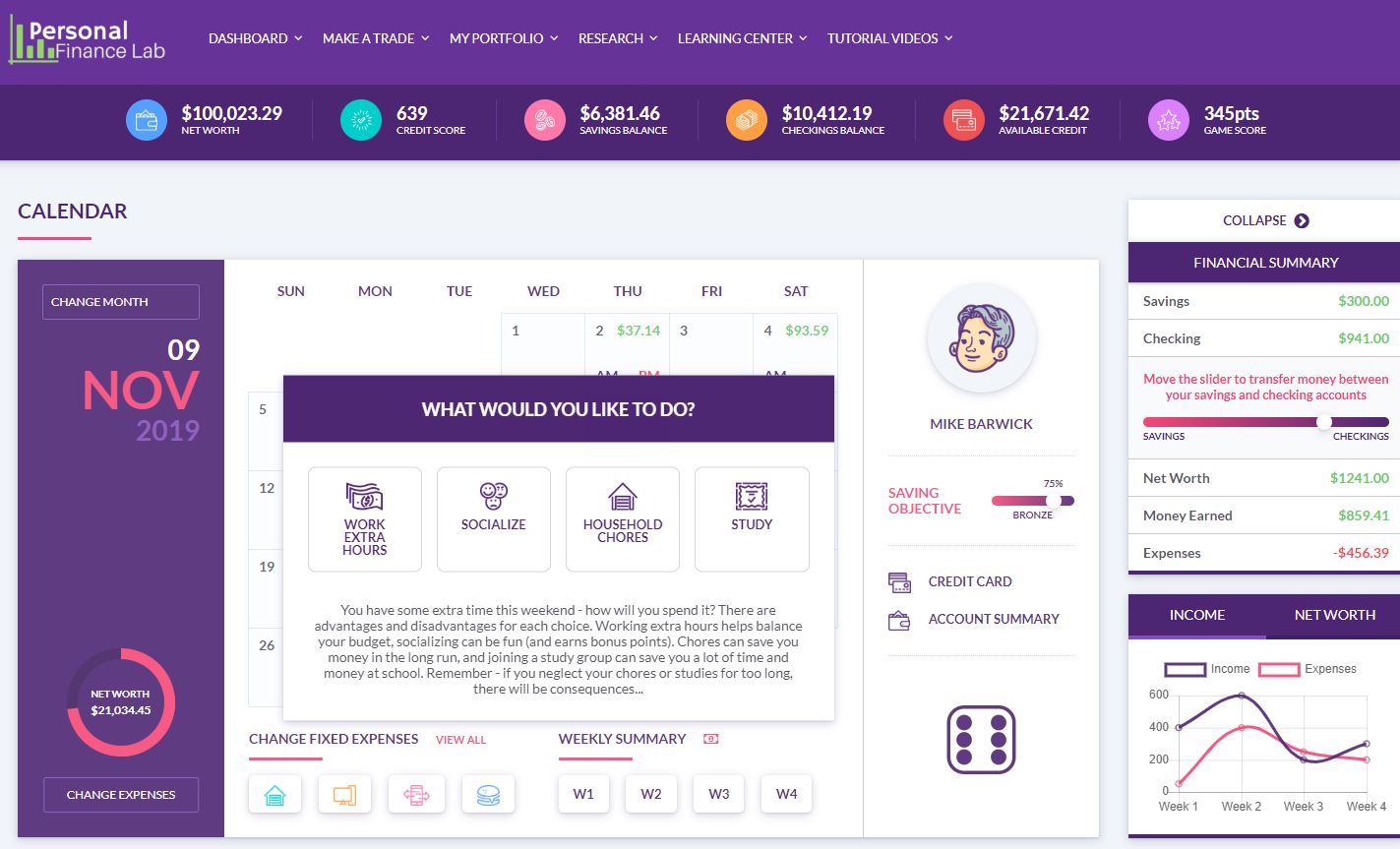 Students also choose how to spend every weekend - working extra hours for cash, spending time with friends, taking care of chores, or studying
Each choice has consequences - neglect studying too long will cause grades to slip - and the need to hire an expensive private tutor!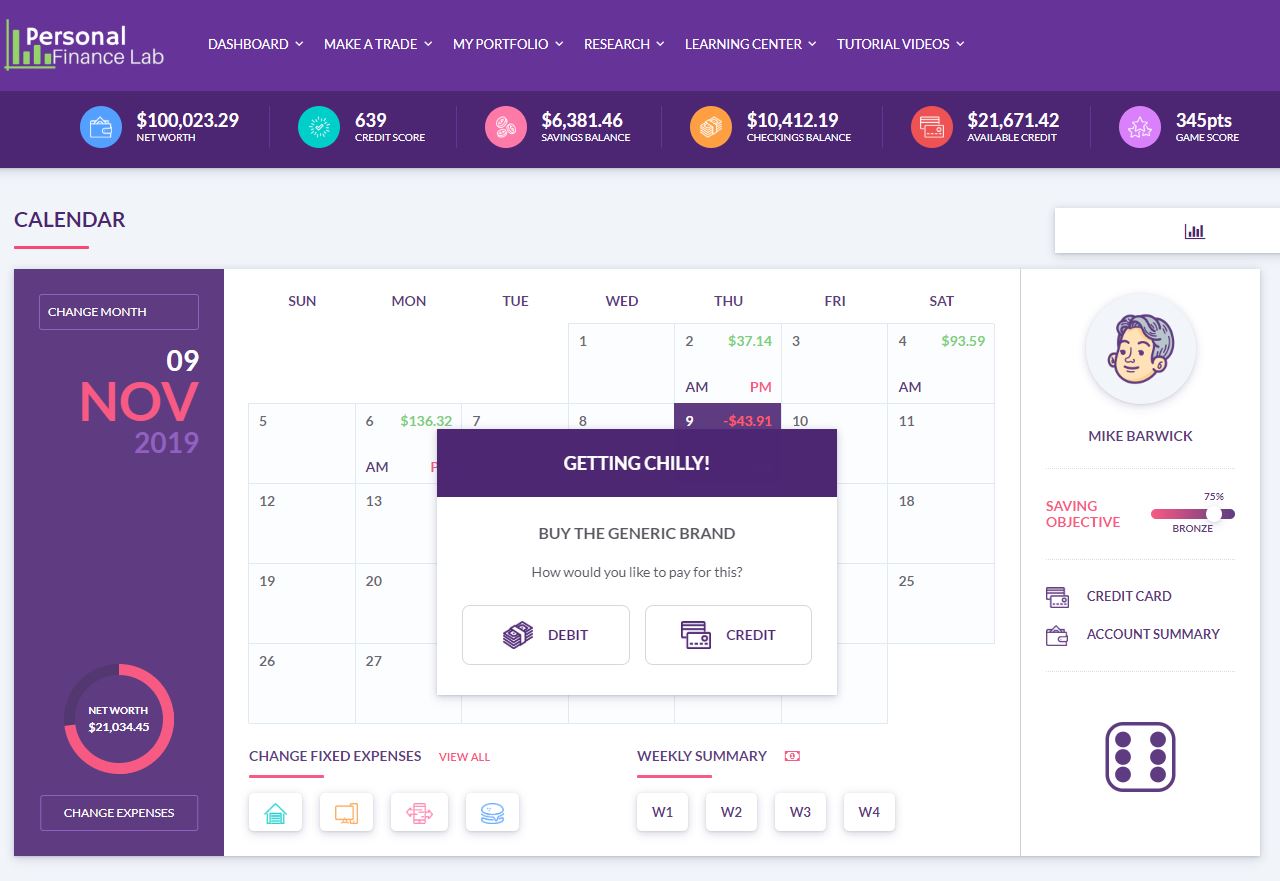 Students can use their debit or credit cards for each expense - and track their bank balances and credit usage
Students build credit by responsibly using their credit card - but losing track of spending can result in interest charges and damaged credit score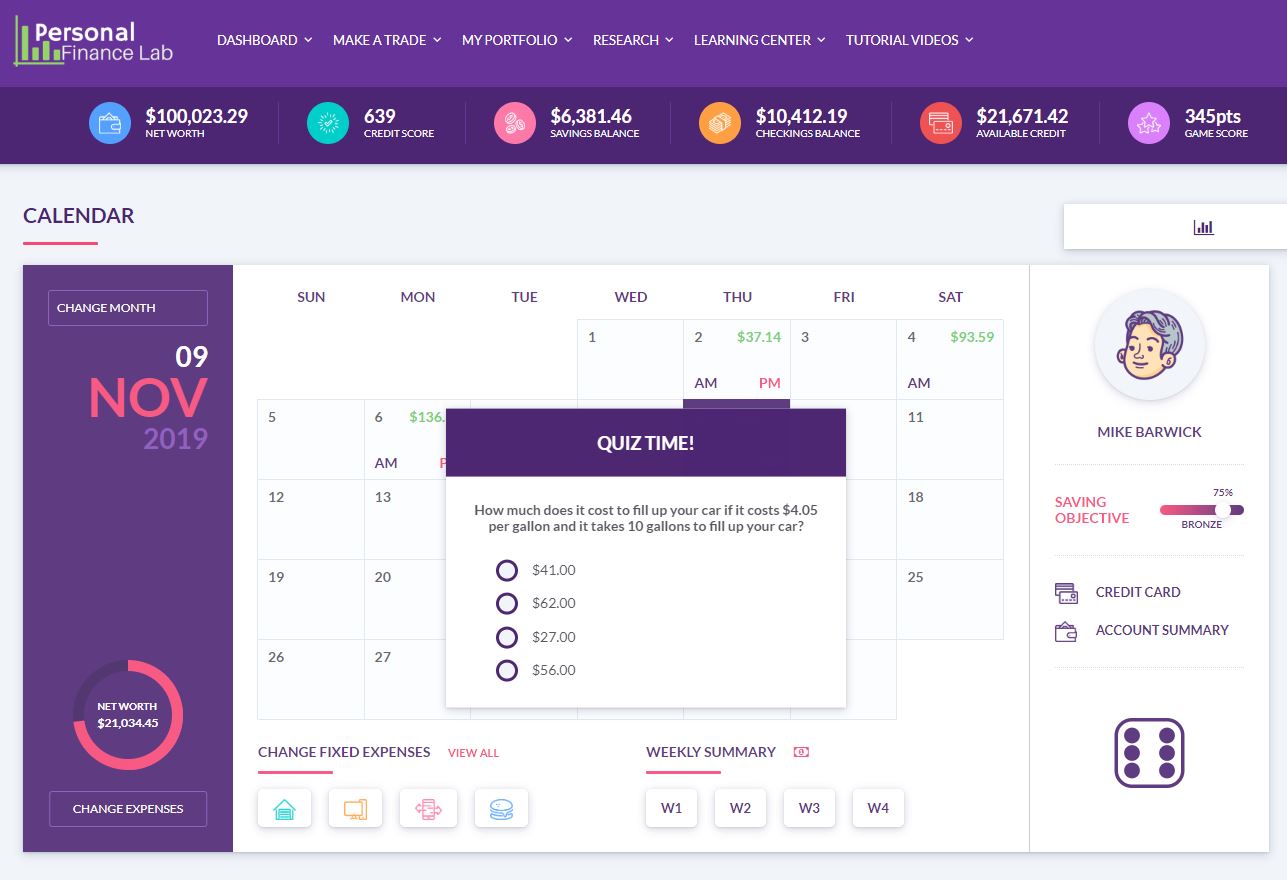 Periodic "Pop Quizzes" reinforce math skills and basic financial vocabulary
Students earn bonus cash for finding the right answer - but get penalized for each mistake
Our Budgeting Game Includes:
How It Works
Step One: Teachers Set The Rules
Teachers start out by choosing the specific rules of their class. These can also be updated as the simulation progresses through the semester!
What will be your student's monthly rent?
How much will they pay for car insurance and utilities?
What wage will they earn at their part-time job?
How much income tax will be charged?
Teachers can also customize the types of "Life Events" that occur in the game. Emphasize risk and insurance while you cover it in class, then encourage more events focusing on reading and understanding contracts, and much more!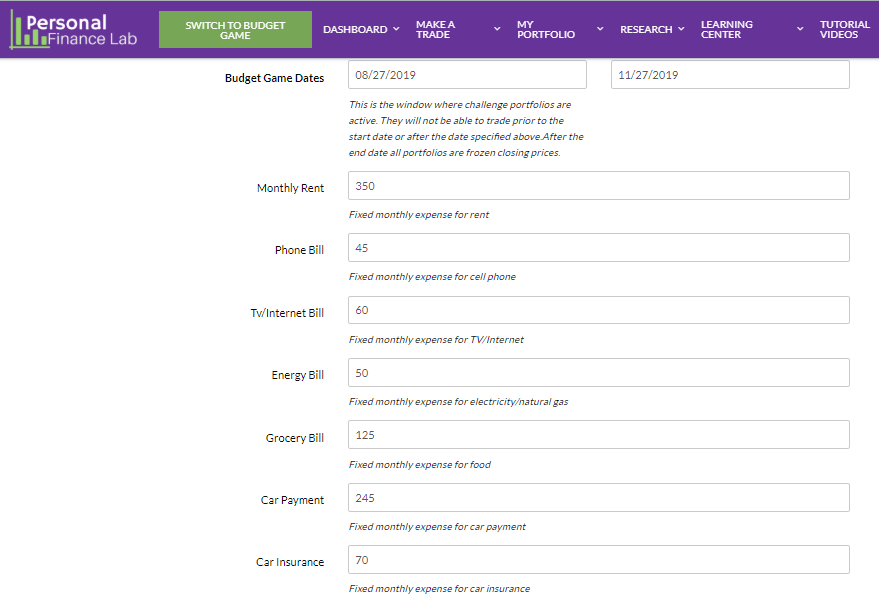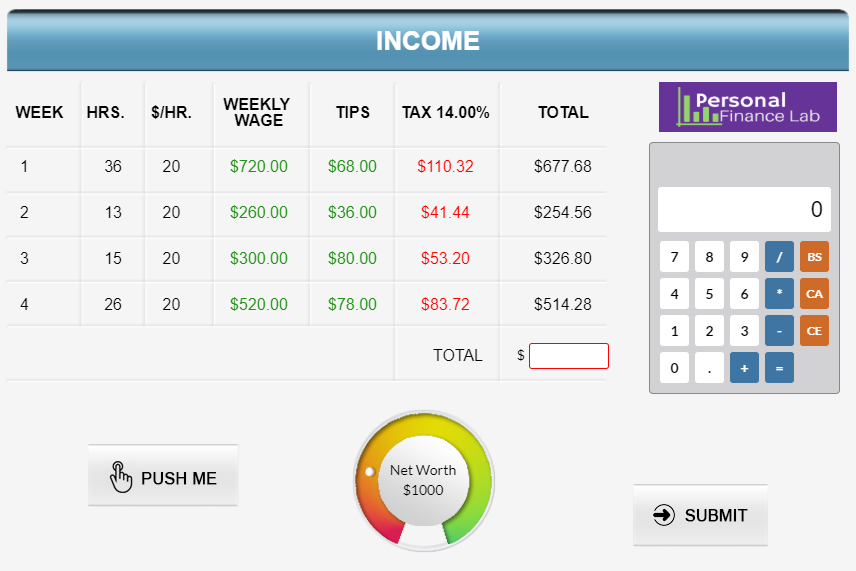 Step Two: Students Start The Game
Students start the budget game with $700 in their checking account and $300 in their savings account. Their goals are to build their net worth by transfering money from their checking account to savings, and build up their credit score by responsibly covering cash flow shortfalls (and paying off their balance on time).
Students progress through 12 "months" of the game, with each month taking about 20 minutes to complete. "Life Events" crop up every couple days, with unplanned expenses (and occassionally income) putting pressure on their budget – requiring careful planning!
Class rankings tie everything together, with students able to compare their net worth, credit score, and overall score with their classmates!
Step Three: Life Happens. Learning Begins!
Students progress through the game, with similar (but not the same) events happening across the class. Sometimes taking a risk will pay off, but sometimes it comes back to bite! This is an awesome starting point for class discussions – who did what, and how did it pay off?
While students work through the budgeting game, they also work through the lessons you set up from our customizable curriculum library (with built-in assessments) for a completely customized learning experience!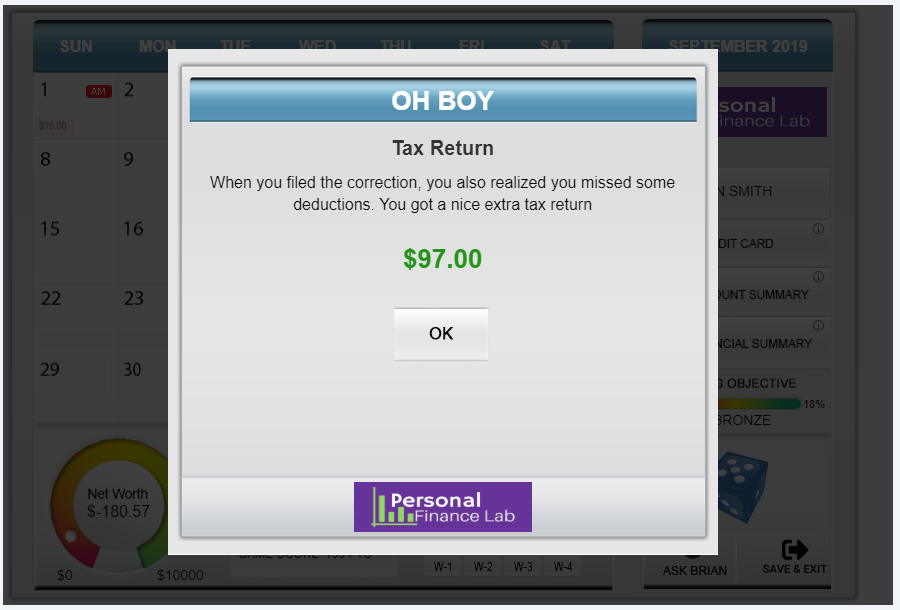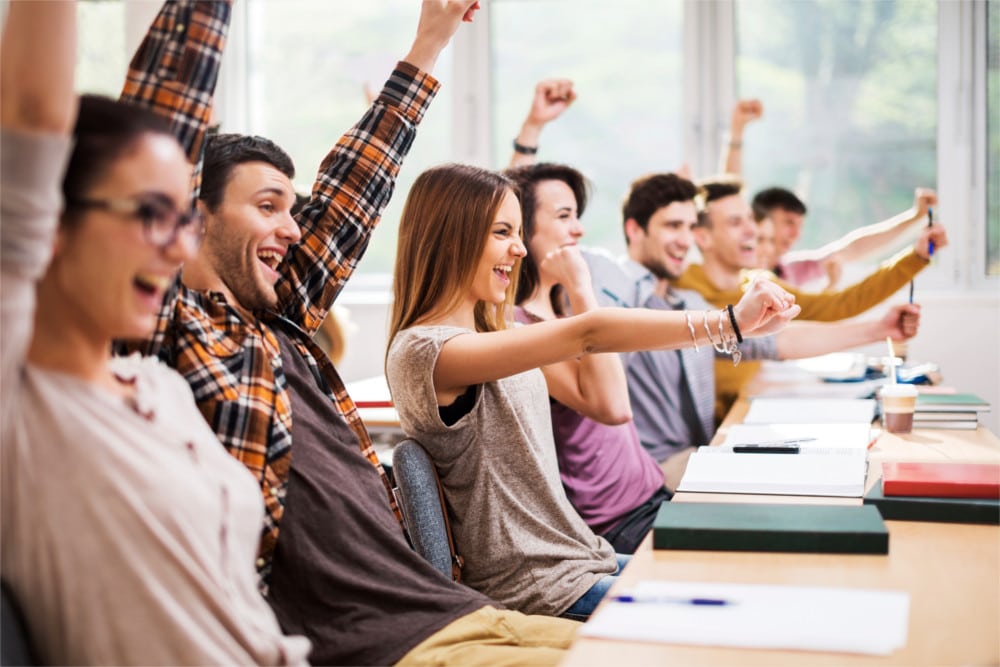 Pricing
Pricing starts at $10 per student for just our budget game, or $15 per student for the stock game + budget game combo. Site licenses are also available for larger schools!
The PersonalFinanceLab.com Platform
PersonalFinanceLab's Budgeting Game works best when paired with our stock game and curriculum, bringing all the best experiential learning games and resources for your class all in one place.
Hover over or tap each element to find out more!
Supercharged With Customizable Curriculum!
While your students progress through the Budgeting Game, teachers can add in over 300 different customizable lessons covering Personal Finance, Economics, Business, Investing, and Math concepts! Lessons include articles, videos, interactive calculators, mini-games, and other resources, each ending with a short pop-quiz as an assessment.
Personal Finance Lab Site License Pricing
Pricing is based on the number of student accounts your school needs per year. Remember: not just your class can benefit! All pricing is based on school – discounts are available for multiple schools in the same district.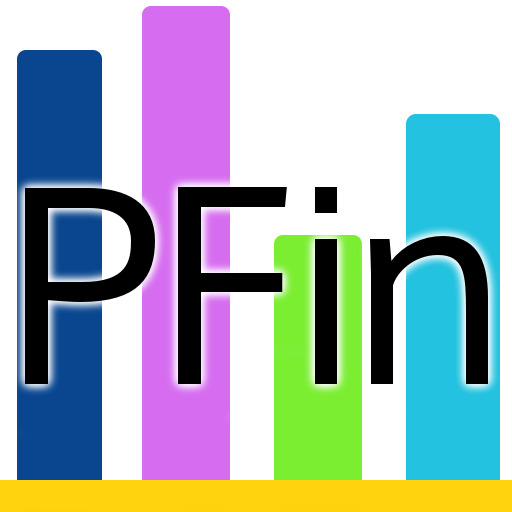 Order Student Accounts
Budget Game or Stock Game: $10 Per Student
Budget Game AND Stock Game Combo: $15 Per Student
Both the Stock Game and Budget Game includes our full curriculum library. Order PFinLab accounts for your class.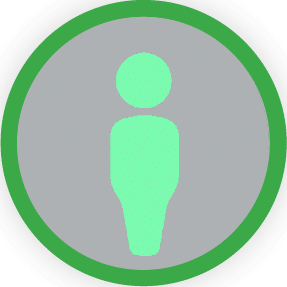 Micro Site License
Stock Game + Budget Game Combo: $1,495 Per Year
$995 per year for just Stock Game OR Budget Game
Up to 100 students per year. Covers 2 smaller classes, or one bigger class per semester. Includes our full curriculum library!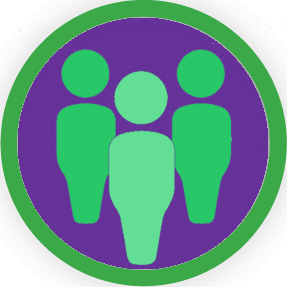 Mini Site License
Stock Game + Budget Game Combo: $2,995 Per Year
$1,995 per year for just Stock Game OR Budget Game
Up to 250 students per year. Perfect for CTE programs using Personal Finance Lab in multiple subjects. Includes our full curriculum library!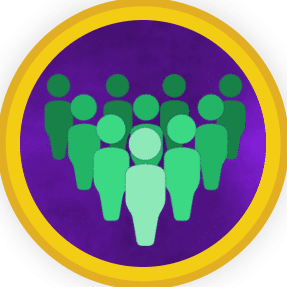 Full Site License
Stock Game + Budget Game Combo: $5,995 Per Year
$3,995 per year for just Stock Game OR Budget Game
Up to 1000 students per year. Run school-wide challenges and after-school programs! Includes our full curriculum library!