Financial Literacy Month Budgeting Competition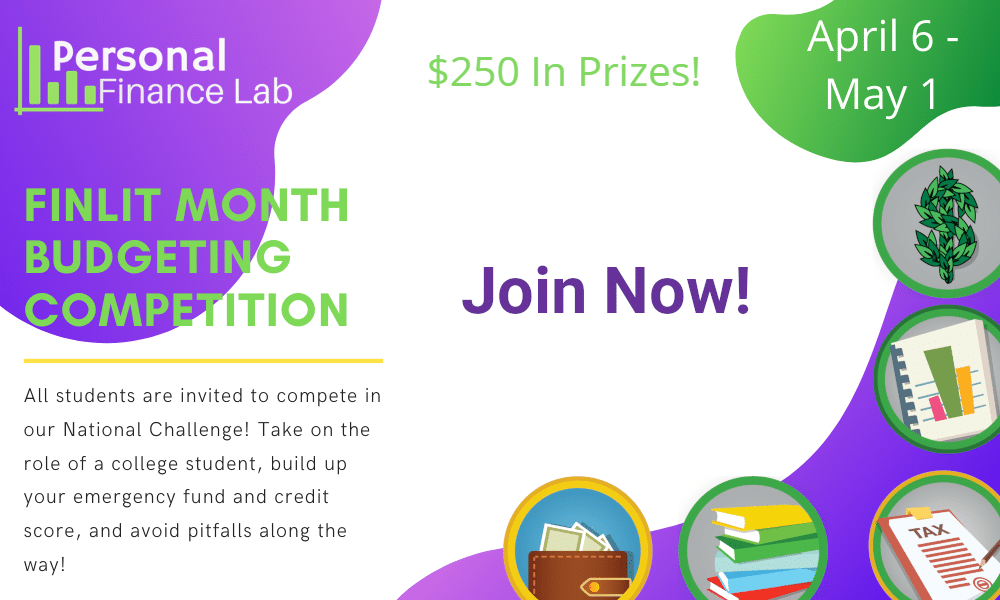 April is Financial Literacy Month, and we at Personal Finance Lab are excited to announce our free National Budgeting Competition!
Students taken on the role of a college student with a part time job – they will need to manage their variable income, unexpected expenses, and tough decisions as they work to improve their Net Worth, Credit Score, and Quality of Life. The competition is open for the month of April 2020, and consists of 12 virtual "months" (each month takes about 20 minutes to complete).
Students must navigate through personal finance lessons, difficult spending choices, and learn how to navigate uncertainty to succeed!
Students – Click Here To Register Individually
Teachers – Click Here To Register Your Class
Registration and Prizes
Students must register individually – each student will need their own username and password. Email addresses and full names are NOT required to participate.
The top 10 students by Game Score at the end of the competition will each receive a $25 Amazon Gift Card (all winners are subject to an audit).
---
How To Play
---
Using The Budgeting Game In Your Classroom
The budgeting game is free for April 2020 only for our National competition. Instructors that are interested in using the full version of the Budget Game in their classes can order a license for their classroom or school. This will let teachers oversee their class progress, view reports, control all the game settings, add on extra learning modules, and much more!
Order The Budget Game For Your Class
Schedule A Demo